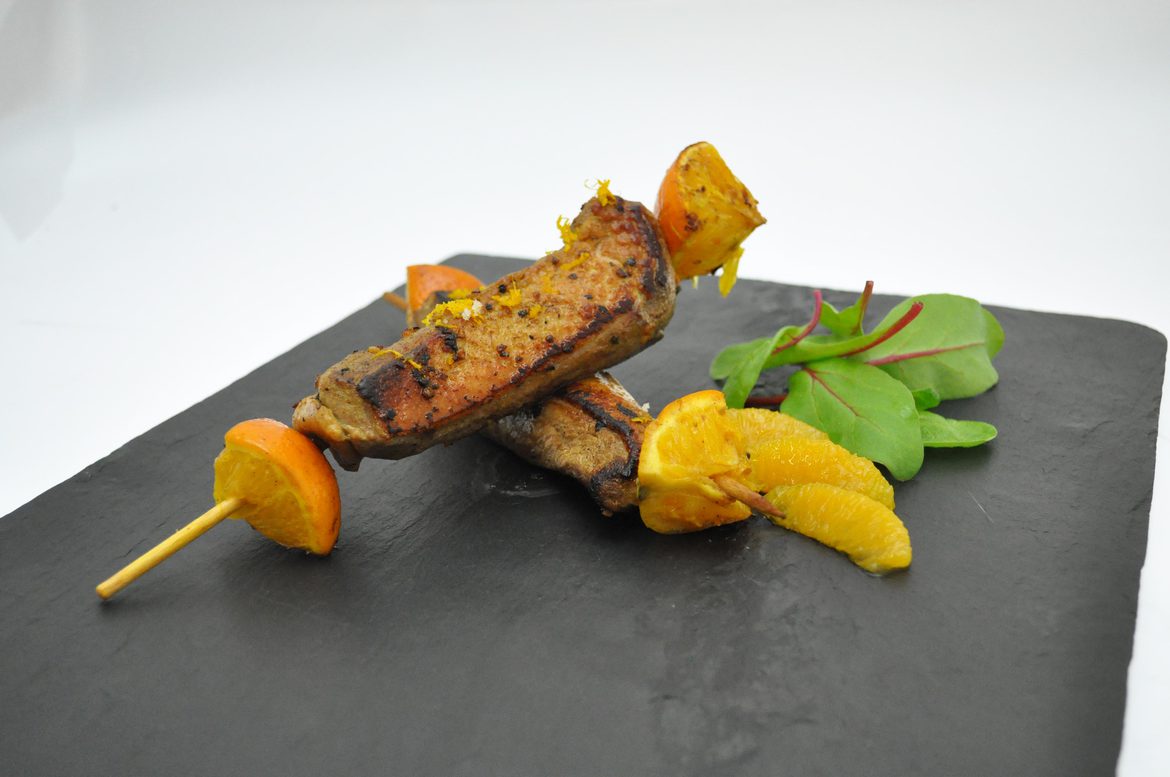 Foie gras and truffle ravioli with parmesan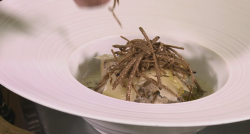 Ingredients
Fresh pasta dough:
125 g flour
125 g fine wheat granules
5 egg yolks
3 whole eggs
1/2 tbsp wine vinegar
For the garnish:
300 g foie gras in 10 g pieces
30 slivers fresh truffle (1 g)
300 g spinach cooked in olive oil
Salt and pepper from a mill
Sauce:
15 cl liquid whipping cream
150 g butter
20 g olive oil
100 g chopped truffle
50 g very strong white poultry stock
Salt and pepper from a mill
Decoration:
2 g julienned truffle
15 g parmesan shavings
Olive oil
Preparation
Make the dough :
Blend all of the ingredients in a food processor.
Refrigerate in a plastic bag.
Press in a fresh pasta machine's rolling mill (1 mm thick).
Cut into squares (10 cm per side) and set aside.
Make the sauce :
First, cook the chopped truffles in butter.
Add cream and cook for another 2 minutes.
Remove from the flame, add the butter and olive and blend, then set aside.
Prepare the ravioli :
Take a square of dough and use a brush to cover it with whipped egg.
In the middle, place one truffle sliver, 10 g cooked spinach and one 10 g piece of duck foie gras.
Cover with a second dough square.
Seal well and cut a 7 cm diameter round piece out with a pastry cutter.
Cook the ravioli :
Boil salted water.
Pour the ravioli into the water and bring to a boil.
Simmer for 2 min.
Remove the ravioli with a skimming ladle and place on a clean cloth to drain.
ARRANGEMENT :
Arrange the ravioli in a soup plate, add sauce, sprinkle with parmesan shavings and julienned truffle (cut into small sticks). Drizzle with olive oil.
TIPS FROM THE CHEF : For perfect parmesan shavings, use a potato peeler.
Discover the recipe in video, a recipe of the chef Philippe Da Silva for Lecoq on tour: