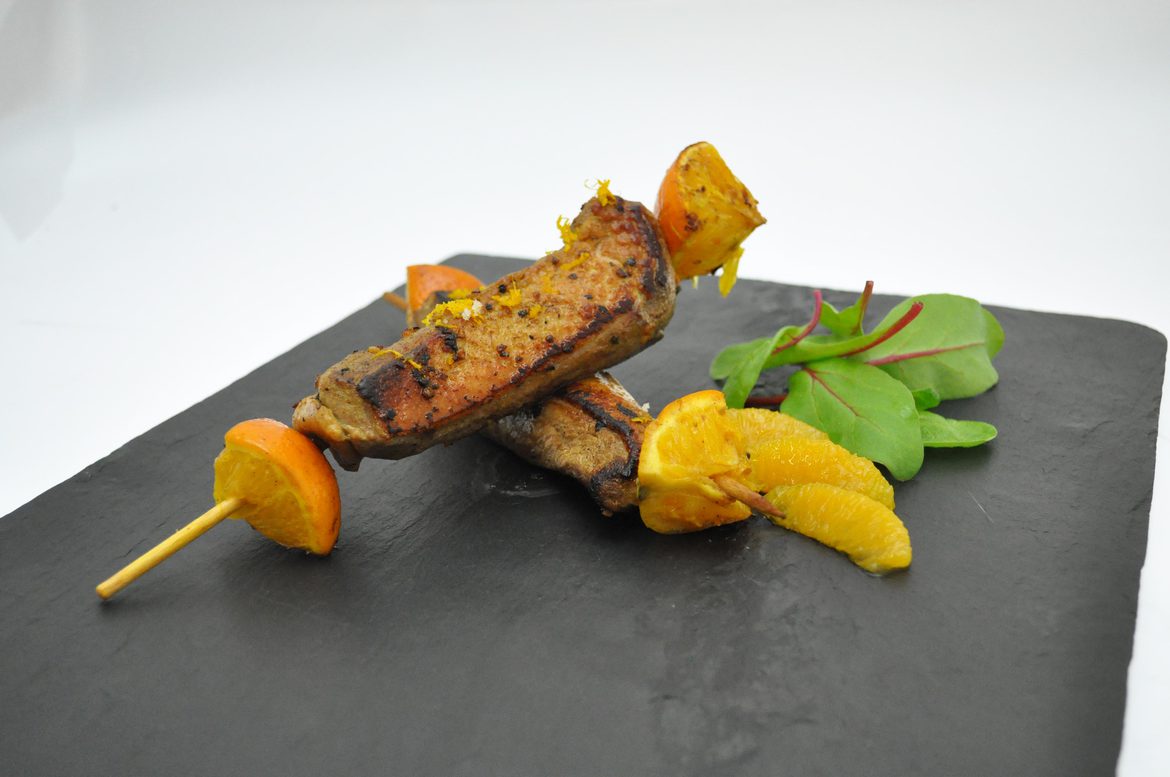 Roast duckling fillets, polenta with kumquat gel, and orange peel gravy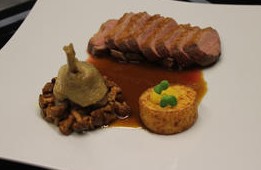 Ingredients
Ducklings:
4 ducklings
2 laurel leaves
5 juniper berries
5 coriander seeds
200 g coarse salt
1 kg duck fat
Glaze:
250 g honey
40 g soy sauce
12 g sherry vinegar
2 crushed garlic cloves
15 g thin-sliced ginger
30 g Szechuan pepper
20 g coriander seeds
7 g caraway
Polenta:
60 g polenta
330 g milk
1 orange zest
Salt and pepper
Kumquat gel:
200 g kumquat or orange
100 g sugar
Duckling gravy:
4 shallots
2 garlic cloves
10 g ginger
2 laurel leaves
25 cl orange juice
25 cl veal stock
50 g butter
1 orange zest
2 tbsp glaze
Preparation
Carve the ducklings' fillets and thighs.
Dress and score the fat on the fillets.
Pan-roast for 5 minutes.
Dress the thighs and marinate them in coarse salt and the spices overnight.
Desalt in cold water for 30 minutes.
Cook in the fat for 3 hours.
Blend the spices. Mix it all and chill.
Cook the polenta for 10 minutes.
Mold it into a cylinder.
Cut it into disks 3 cm high.
Scoop them out using an apple corer, flour and fry until lightly colored.
Blanch the kumquats three times.
Candy them in sugar and water, filled up to the level of the fruit.
Blend and pour through a conical strainer.
Roast the bones and the trimmings.
Sweat the shallots, garlic, ginger and laurel.
Add the bones and 2 tbsp of glaze.
Caramelize and deglaze with orange juice.
Moisten with brown stock and 75 cl water.
Cook for 90 minutes.
Filter and reduce.
Add the orange zest and thicken with butter.