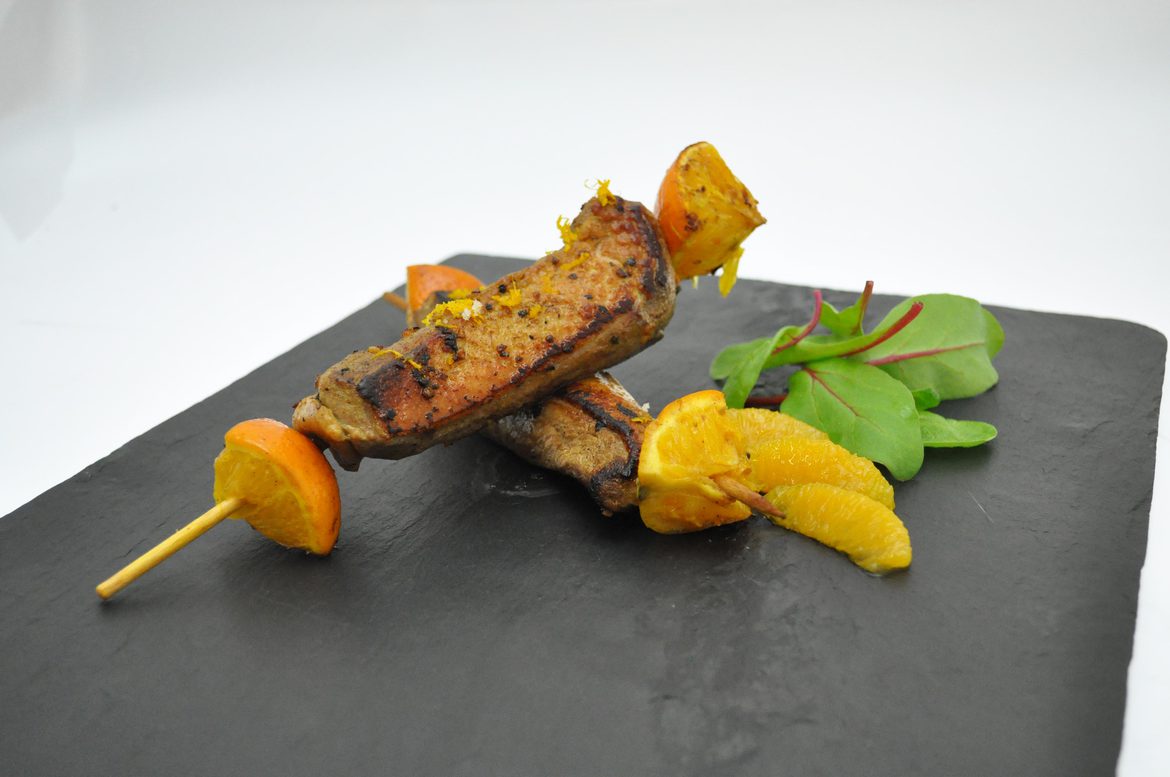 Iodized foie gras by Olivier Bellin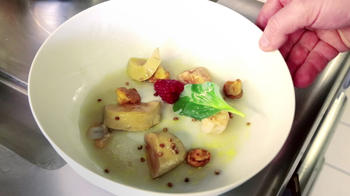 Ingredients
500-550 g duck foie gras
Chanterelles (or button mushrooms)
Raspberries
Cockles
Langoustines
Oysterleaf
Olive oil
Buckwheat seeds
Fine sea salt
Penja white pepper
Preparation
Cut two slices of foie gras. Season with white pepper and fine sea salt.
Score them with a knife, so the broth will soak in.
Plunge them into the langoustine broth at 70°C (160°F) for 4 minutes (broth ingredients: langoustine shells with olive oil, carrots, onion and water, or buy a pre-made broth from the store).
Flip the escalopes after 2 minutes of cooking.
Remove the foie gras from the cellophane.
The foie gras should be firm and tender, cooked on the outside and pink at the center.
Add a pinch of fine sea salt.
During that time:
Poach the cockles in boiling water for a few seconds.
Pan-fry the langoustines for a few seconds on one side, over a high flame, in olive oil with a pinch of fine sea salt.
Scrape the chanterelles and fry them with the langoustines.
ARRANGEMENT​
Take both slices of foie gras, one or two langoustines, one or two raspberries, three or four chanterelles and two or three cockles, and sprinkle with buckwheat seeds and a pinch of fine sea salt.
Place an oysterleaf as decoration and pour the langoustine broth gently into the plate.
TIPS FROM THE CHEF​
Keep the raspberry stems attached for as long as possible, because the berries will continue to soak up its sap.
Use more flavorful, less spicy white pepper than the other ground peppers.